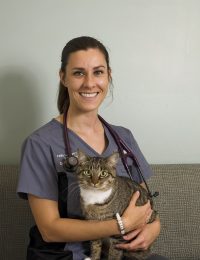 Dr. Kayla Stinn has loved animals from a very young age and that love has only continued to grow.
Her very first pet was a moth named "Fluffy" that she raised from a caterpillar in elementary school. She begged her parents for a kitten –  despite multiple family members' allergies – and finally adopted "Mocha" from the Vernon SPCA on her 12th birthday.
Dr. Kayla's admiration for animals and passion for veterinary medicine was reinforced during her time spent volunteering in Africa with Global Vets where she participated in a community clinic for companion and farm animals in Zanzibar.
Freya is Dr. Kayla's mischievous cat.  Adopted as a kitten in 2018 from the Sechelt SPCA, Freya has tons of personality and spunk but is also the sweetest little thing and likes to spend time curled up next to Dr. Kayla.
Dr. Kayla grew up in Lake Country in the Okanagan Valley. She attended UBC and earned a Bachelor of Science with a major in microbiology. She then moved to Saskatoon to complete her degree in Veterinary Medicine and graduated as a Doctor of Veterinary Medicine with distinction. Dr. Kayla now lives in the Lower Mainland (Vancouver) with her partner Justin and of course little Freya. They share an adventurous spirit and enjoy all types of outdoor activities from skiing and camping to rock climbing and mountain biking.
University of Saskatchewan – Degree in Veterinary Medicine
Canadian Veterinary Medical Association member
College of Veterinarians of BC member
University of British Columbia – BSc in microbiology